Literacy at Our School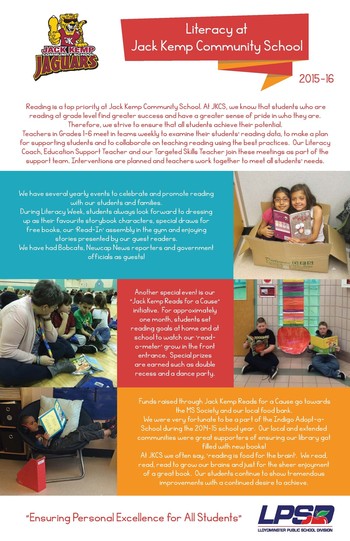 Reading is a top priority at Jack Kemp Community School. At JKCS, we know that students who are reading at grade level find greater success and have a greater sense of pride in who they are. Therefore, we strive to ensure that all students achieve their potential.
Teachers in Grades 1-6 meet in teams weekly to examine their students' reading data, to make a plan for supporting students and to collaborate on teaching reading using the best practices. Our Literacy Coach, Education Support Teacher and our Targeted Skills Teacher join these meetings as part of the support team. Interventions are planned and teachers work together to meet all students' needs.
We have several yearly events to celebrate and promote reading with our students and families.
During Literacy Week, students always look forward to dressing up as their favourite storybook characters, special draws for free books, our 'Read-In' assembly in the gym and enjoying stories presented by our guest readers.
We have had Bobcats, Newcap News reporters and government officials as guests!
Another special event is our "Jack Kemp Reads for a Cause" initiative. For approximately one month, students set reading goals at home and at school to watch our 'read-o-meter' grow in the front entrance. Special prizes are earned such as double recess and a dance party.
Funds raised through Jack Kemp Reads for a Cause go towards the MS Society and our local food bank.
We were very fortunate to be a part of the Indigo Adopt-a-School during the 2014-15 school year. Our local and extended communities were great supporters of ensuring our library got filled with new books!
At JKCS we often say, 'reading is food for the brain!'. We read, read, read to grow our brains and just for the sheer enjoyment of a great book. Our students continue to show tremendous improvements with a continued desire to achieve.
Discover how the Lloydminster Public School Division puts your child's education first through its literacy priority!